Office Chair Racing; Ever heard of it?
A unique annual office chair endurance race in Japan, now in its 10th year, is looking to expand its reach overseas this year and aims to ultimately become an Olympic sport one day, organizers said.
In teams of three, competitors battle it out Le Mans-style at the "Isu-1" Grand Prix, taking turns on swiveling office chairs, mostly propelling themselves backwards. The team that completes the most laps of the event's 150-meter to 200-meter course wins.
The inaugural race originated in Kyoto Prefecture in 2010, when participants scooted down Kirara shopping arcade in the city of Kyotanabe on the office furniture.
The competition has since grown in popularity, with the grand prix series for fiscal 2019 featuring a total of 15 events across Japan through the end of March.
From Hokkaido in the north to Kumamoto Prefecture in the southwest, a cumulative 6,600 people have competed in the race, the organizers said.
The first overseas race was held in Taiwan in 2016, and has since also been featured in China, Malaysia and elsewhere. The organizer, the Japan Office Chair Racing Association, said it has also been approached by interested parties from the United States and Australia.
The Isu-1 Grand Prix -- "isu" means chair in Japanese -- tests not only one's physical endurance but also mental strength, team coordination, as well as course planning and other race strategies.
"Even if you're confident in your physical strength, you won't be able to win if your chair breaks (during the race) as you would be disqualified," an official at the association said.
Some serious contenders have even started delving into finding the best chair suitable for the race, according to the organizers.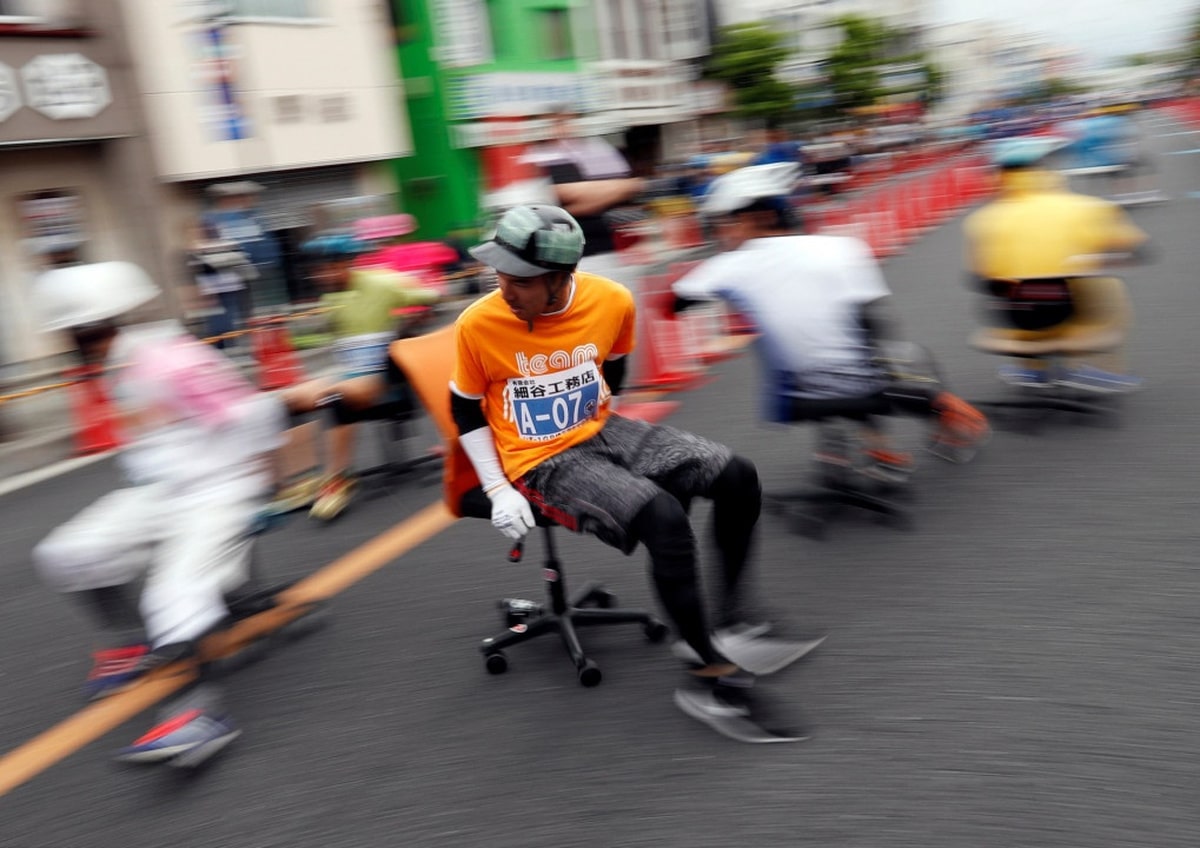 "Will the chair break first, or you yourself collapse first? It's a grueling race," said Tsuyoshi Tahara, the association's representative director. "And when the race is over, not only the competitors but also those who were there to cheer for them will feel a sense of accomplishment."
"The competition's rules are universal and anybody can participate," he added. "We want to promote Isu-1 to the world so that it will be something that local kids in Kyotanabe can be proud of."
Race to The Finish!
Interested in the idea of Office Chair Racing? Why not pitch it to your office as a fun teambuilding activity. And why stop there?
While you're at it, increase your chances of winning by getting the best possible wheels out there! Check out our Caster Office Chair Wheels.
They're an excellent upgrade to your ride and ensures that you leave your opponents in the dust!